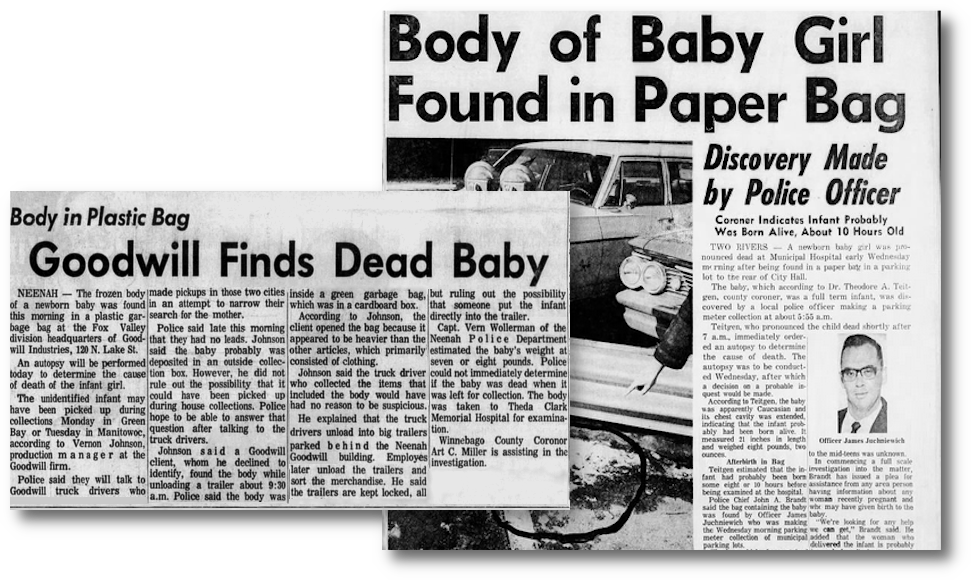 Manitowoc County, WI
Helping to Identify Infant Homicides
| | |
| --- | --- |
| Crime: | Homicide |
| Date: | 1 Mar 1970 |
The Manitowoc County Wisconsin Coroner's Office is investigating the 1970 deaths of two newborn infants.
In March,1970, a newborn baby girl was found in a bag in the parking lot of the Two Rivers city hall just before 6:00 A.M. The infant, which was full term, was taken to the hospital were it was pronounced dead. An autopsy done at that time indicated that the baby died of a combination of asphyxiation and exposure.
In December, 1970, the frozen body of a newborn baby girl was found at the division headquarters of Goodwill Industries in Neenah when employees unloaded a trailer. The trailer contained items that had been picked up during the previous day's collections from outside collection boxes in the Manitowoc and Two Rivers area. An autopsy revealed that the infant died of exposure.
Funds donated to this JusticeDrive campaign will be used in an attempt to identify the parents in these two cases. DNA extraction, Snapshot processing, Genetic Genealogy Analysis, Kinship Inference or other methods recommended by Parabon will be used. Donations exceeding the campaign target will be used for other JusticeDrive cases.